OBX's Dream 18: Holes 16-18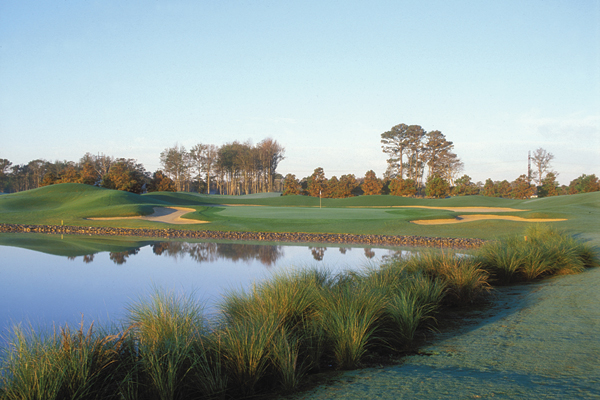 OBX's Dream 18, Holes Nos. 16-18
The Carolina Club, Grandy
The longest course on the Outer Banks and also the northern most, the Carolina Club is a meticulously manicured, nearly 7,000-yard, par-72 championship golf course that may well be the highlight of your stay (especially if you play it all warmed up and finally in the groove on your way out of OBX as I did). Designed by Russell Breeden in 1998 and tweaked by Bob Moore a few years later, the golf course was built on flat terrain though the fairways do feature some slight mounding and contour. The layout winds through wetlands and wooded areas. It plays tighter than it looks, with strong winds periodically coming into play.
"Although it's the most inland course, there always seems to be a breeze here," Director of Golf Doug Kinser said. "It's so bizarre, because it can even be windier here than at The Pointe [which is right next to the Sound]. I don't know why."
Upon development, Breeden was asked to transform a former potato farm into arguably the most popular layout in town. It is often thought of as "a hidden treasure" because of its world-class feel and its location in Currituck County means it is often less crowded than some of the beach golf courses during high tourist season.
16. The Carolina Club's Hole No. 7, 166-yard par 3
Ah, what is a barrier-island destination without a true island green? Well, I got my wish here. What I hadn't counted on while stepping up to the tee box on No. 7 were a few words in my head from a player hitting out of a bunker on nearby hole No. 14.
"These are nice bunkers," he said after a good recovery. "It's nice to play out of good bunkers."
Strangely, the words I overheard while staring at the island green had a comforting effect. The image of nice white sand (some 30 bunkers had been recently removed from the golf course while all the remaining ones had been newly replenished) overpowered the thought of the surrounding water danger ahead.
With the true, bulk-headed island green looming in the distance and only one small bunker to be conscious of, I struck a nice shot onto the back of the awaiting carpet to set up a two-putt par. While the green at No. 7 is plentiful, hitting it is obviously at a premium – though there is a little more room to the rear than left, front and short. Taking the extra club here was not a bad decision as it enabled my ball to avoid the watery grave.
17. The Carolina Club's Hole No. 17, 219-yard par 3
This one-shotter over a pond and a rock embankment requires a precise shot to hit the putting surface. First of all, the green complex is guarded by a pine tree overhanging on the right side. There are also two bunkers to contend with both front left and front right. There's a lot to think about on this offering, so I choose to ignore the pin and shoot for the middle of the green. Turned out to be a good decision as it propelled me to a par.
18. The Carolina Club's Hole No. 9, 504-yard par 5
(Note: Although a bit out of order, I have saved this hole for last on purpose. It truly is one for the memory banks and was actually The Carolina Club's No. 18 finishing hole in the original Breeden design.)
I was warned by several folks beforehand that No. 9 (during the Moore renovation, the 9th and 18th holes, both par 5s, were reversed to help accommodate eventual development) would be challenging.
"People come off that hole shaking their heads wishing they could do it over," a Carolina Club starter said.
Fortunately, I didn't have to because my fear of disaster prevented me from playing it aggressively. After birdieing No. 8 with my longest and best putt of the week, I begin my adventure on No. 9. Raved about by the manager, the starter, the superintendent and the cart boy, I am on my guard with a good round going.
With water front and left off the tee, I play it safe (but too short) down the right side. From there I am faced with one of two options: lay up in front of not one but two ponds or go for a bold shot to a virtual "barrier island" fairway in between. I chose the double layup to the 100-yard marker, leaving me with another shot over water to a tight pin standing just beyond rocks and a wooden bulkhead. Managing that, a two-putt leaves me with a – all in all – satisfying bogey six and a sigh of relief.
In the end, I got to polish off my trip playing The Carolina Club as the first player off, on a non-windy morning, across freshly mown greens featuring subtle breaks at breakneck speeds and around 30 less but freshly replenished bunkers (of course, still managing to find a few). What an experience The OBX Great 18 was.
And so, in the words of Dave Kindred from Around the World in 18 Holes, "How unfair for the trip to be over just when we were loving/hating [the latter only in their case] it the most."
I hope to do our Outer Banks version again soon.
Rest of the Dream 18:
Holes 16-18
https://playobxgolf.com/wp-content/uploads/2015/09/carolinaclub21.jpg
400
600
OBXT_Admin01
https://playobxgolf.com/wp-content/uploads/2022/07/Play-OBX-Golf-Logo-Horizontal-300.png
OBXT_Admin01
2021-11-19 11:24:13
2021-11-19 14:38:25
OBX's Dream 18: Holes 16-18