Fraternal Fairways – 35 Years of OBX Golf Trips

Their annual golf getaway to the Outer Banks certainly wouldn't be on par with the 1978 classic comedy "Animal House," but then again, isn't having a little fun a big part of what it's all about?
Here you have it, a group of fraternity brothers and friends – nearly two dozen in number – heckling each other as players depart the 18th green at Duck Woods Country Club in Southern Shores, North Carolina. The scene shifts to another game at The Pointe Golf Course located on the mainland across the other side of the Currituck Sound. Here is where trip originator Kirk Salpini can't contain his giddiness on one of the layout's Augusta National-quality greens and promptly putts it past the hole down the slope into the water. Throw a bachelor party into the script … a Cinco De Mayo celebration … some group wagering on the Kentucky Derby … maybe a cameo from Salpini's fraternity brother Carl Klingenberg hitting a ball "on the screws" from his persimmon-wood driver. The shot lands about three feet from the pin on No. 15 at Nags Heads Golf Links with a 30 mph Roanoke Sound wind whipping into his face. Add it all up, and you do get the feeling that somewhere beyond the camera phones John Belushi's ghost just might be lurking about in a patch of tall sea grass.
There's a good reason why for the past 35 years members and friends from James Madison University's Pi Kappa Phi fraternity (most of whom have settled in the Virginia/North Carolina region) gather each spring along the Outer Banks to play golf.
"I decided to start the trip in 1987 when a co-worker who owned a home in the Outer Banks agreed to rent it out to me for the weekend," says Salpini, a resident of Northern Virginia in the suburbs of Washington, D.C. "I thought it would be fun to get some of my fraternity brothers and friends together. Eight of us squeezed into a three-bedroom house at Mile Post 12 in Nags Head. We began the trip in March, adjusted it to April after the first few years and [eventually] settled on early May."
Over time, even more enthusiasm developed for the trip as attendees built up more vacation and discretionary income. The event was expanded with the potential duration stretching to a full week ending on the first Sunday in May.
For the past decade and a half, Salpini's fraternity brother Malcolm Perkins has taken the lead on organizing the trip. Perkins, now settled in the Richmond, Virginia suburbs, feels the key to maintaining ongoing success is picking a date "same time every year and sticking to it."
"Sometimes folks can make it; sometimes they can't," he says. "But one can never say they didn't know when it is. Beyond that, enjoying the company of our friends has always been the highest priority. Some of these friendships were developed in elementary school, others while at JMU. The bond that we have is further enhanced by this annual event. As long as we have at least four people interested in participating, we'll continue this annual tradition until we can't!"
For many years, Salpini and company tried their best to create foursomes or groupings based on handicaps so they could have daily, friendly wagering based on skill – or lack thereof.
"As we've gotten more experienced," he adds, "that approach has gone by the wayside as we focus on camaraderie, friendship and enjoyment of each other's company."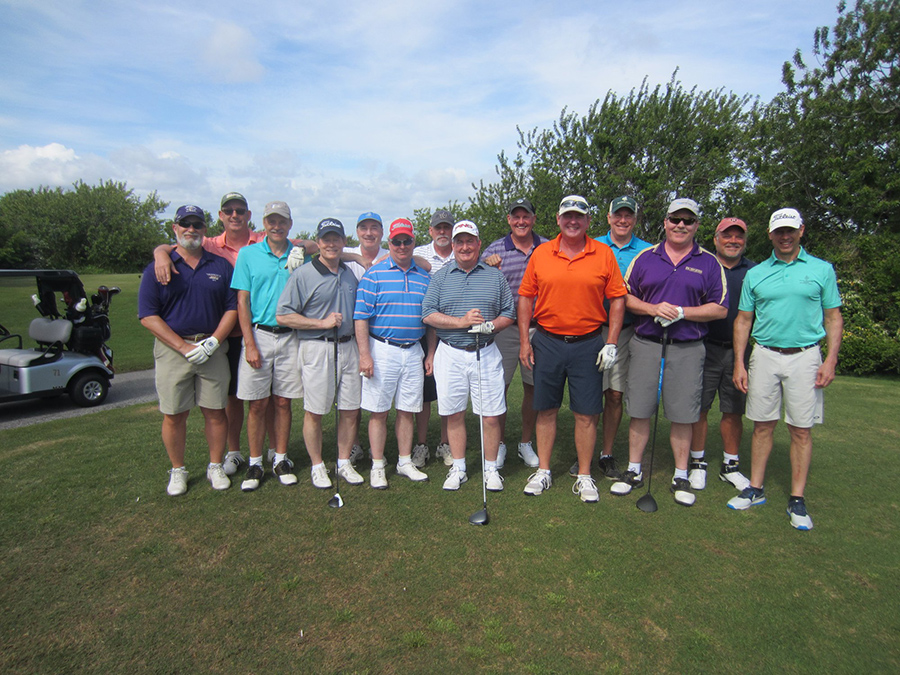 With a core group of eight to 12 players having made the excursion 90 percent of the time, the get-together has taken place every year since the beginning except for 2020 when the Outer Banks was closed to non-residents during those early May dates. Still, the group has stuck by their destination of choice as it resumed play in 2021.
"The Outer Banks works well for this gathering," Salpini says. "A generous selection of large, affordable houses, reasonable golf prices and an array of interesting, nearby golf courses add to the attributes that make the Outer Banks popular with our group. A portion of our group only play golf a handful of times per year – some don't play golf at all – while others play throughout the year and consistently shoot between 80-90. We have learned to play from the correct tees and to modify the rules to insure that play moves along."
While golf is the main attraction, it is not the primary reason for the trip.
"We get together to reinforce our sense of community, which happens organically over several days," Salpini continues. "There were plenty of times that I thought of the hassle of driving down in traffic prior to the trip. Yet when the weekend was over, I more often was grateful for the unique bonds forged and how close I felt to each attendee."
The JMU group initially played at Sea Scape, Duck Woods and Nags Head Golf Links. Over time, it added Currituck Club, The Pointe, Kilmarlic and The Carolina Club to the rotation. It actually began playing Nags Head Golf Links when it first opened.
"There were no hole layout signs at the tees and the sea grass was so tall that it was difficult to determine where to aim," Salipini says. "Add the typical cross winds and our initial rounds there took about five-plus hours and included double digit ball losses with the predictable words of praise for the course architect. The [Nags Head Golf] Links, although challenging, holds the undisputed title within our group of the most loved and hated course in the Outer Banks."
With the date moving to where it now stands, the Kentucky Derby wagering has become a big part of the ritual.
"We've bowled for beers when the weather required it and each year, with gusto, we've embraced the Kentucky Derby on Saturday evening," Salpini reports. "Few things galvanize a group of 12-20 people's enthusiasm like a nominal wager on a random horse for a full two minutes."
According to the organizers, the group's itinerary has evolved. It began with a Thursday evening through Sunday format and expanded to the full week.
"We try to rent on the oceanfront, seven to 10 bedrooms, and are willing to stay anywhere along the Outer Banks," adds Salipini. "We rent from Sunday to Sunday with each attendee invited to bring wives, partners, kids, etc., from Sunday through Wednesday, though all guests must depart by Wednesday evening. We used to play golf four straight days but have dialed it back to three over the past few years in acknowledgement of our physical limitations. We now play Thursday, Friday and Saturday mornings leaving on Sunday. Our rotation is flexible but almost always includes the [Nags Head] Links."
As for dining, meals are left up to the individuals.
"Some in our group frequent Awful Arthur's Oyster Bar while others prefer Owens' Restaurant," adds Salpini. "Last year two of our group took the day off from golfing, shopped, and cooked dinner for the group. We enjoyed this meal so much that we are planning to incorporate it into the annual routine."
As for other activities, the group used to have a miniature golf night in the early years but that was abandoned and replaced with a cornhole tournament, various billiard and poker nights. In addition, having the beach readily available for fishing, lacrosse toss, off-roading and an occasional artic swim adds to the recreation value of the trip.
Says Caleb Miles, a resident North Carolinian from the Pinehurst region and fellow member of the fraternity, "The group has remained remarkably close since James Madison University's graduation years [ranging from 1979 to 1983] due in large part to having an annual gathering at a great golf destination that keeps the strong bonds in place."
Salpini's Six Keys to a Successful Annual Golf Get-Together:
Be consistent – pick the same date every year.
Keep the price affordable (we typically try to ensure that we cover the cost of the rental and have some funds left over just in case).
Meet each person where they are in life (i.e. if they want to attend, but don't have the funds, then help them out. You won't miss the money, but you will miss the time to build your friendship.).
Bend your rules. Let them come late or leave early.
Delegate and let others carry some of the load.
Remain flexible and don't take whatever happens personally.
https://playobxgolf.com/wp-content/uploads/2022/03/OBX-Golf-Group-Original.jpg
945
1200
OBXT_Admin01
https://playobxgolf.com/wp-content/uploads/2022/07/Play-OBX-Golf-Logo-Horizontal-300.png
OBXT_Admin01
2022-03-28 13:40:00
2022-03-28 13:46:33
Fraternal Fairways – 35 Years of OBX Golf Trips