Hunting Lighthouses and Birdies on North Carolina's Outer Banks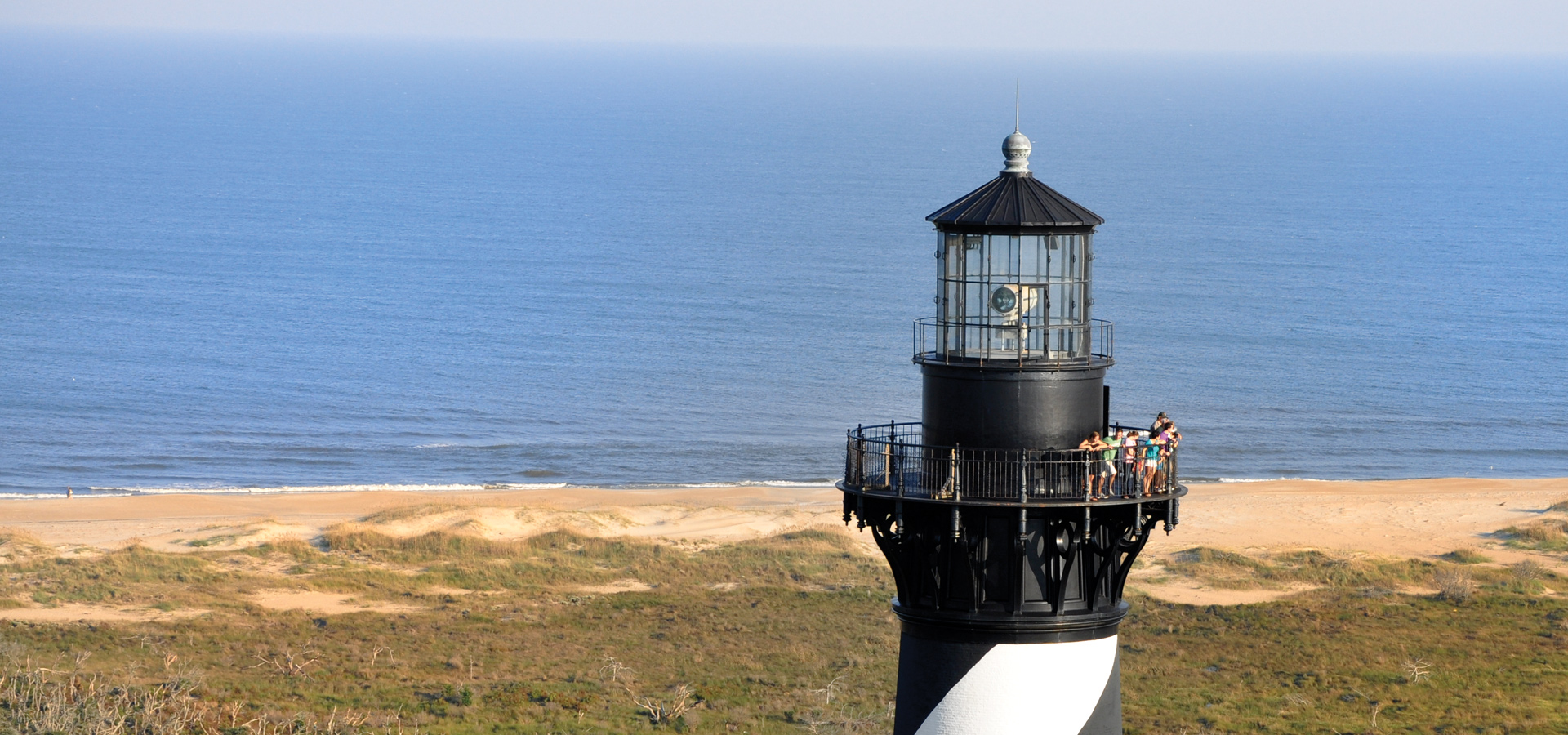 The Rolling Stones had a lot of fun in the day and probably still do today. Chasing women, leaving so many behind and sometimes so enamored with them that "wild horses couldn't drag me away," the lyrics from a song written by John T. Williams. That is not so much the case here.
It was on my last of 4 great days of golf, sun and sand that I was introduced to a very special place where herds of wild Colonial Spanish Mustangs roam freely through the dunes and along the beaches of the northernmost Currituck Outer Banks.
Documentation from as far back as the 1700's that indicate some Spanish explorers looking to come to settle in America would often encounter severe weather that would cause extensive damage or even destroy the wooden vessels. Supplies would sink to the sea floor, livestock was either lost or swam ashore. Horses being the strong swimmers that they are often enough survived. Visiting this 12-mile stretch of Wild Horse Sanctuary is a must for anyone visiting the area. There is no cost to enter this area but I would highly recommend taking one of the many guided tours available. www.CorollaOutback.com
Alas, why did we come to the top of North Carolina's barrier islands? For the golf of course! In planning your vacation to the Outer Banks you will no doubt be challenged with timing issues. Need to golf and so many things to do and not enough time! I know it was a dilemma for us but as we sat and relaxed with our morning coffee at our oceanside beach house we were able to figure it out!
I was fortunate enough to play 3 of the top 4 courses in the area that carry a 4 star or better Golf Digest Rating in their Best Places You Can Play rankings. There are 5 courses that make up the Outer Banks Golf Association and if I were you I would try to play them all.
The Currituck Club was our first stop, this Rees Jones design will give you feel for the area right from the outset. Being so close to the Ocean and Currituck Sound it is not a question of …… will there be wind? But how much and in which direction! Being so close to sea level you would not be accustomed to much in the way of elevation change but do beware of the towering sand dunes as you traverse diverse coastal terrain and wetlands. At just under 7,000 yards its course rating of 74 and slope of 136 from the tips should tell you one thing………move up big boy!
Our double header day on the links had us being overwhelmed right from the get go! The Kilmarlic Golf Club is as picturesque as it gets. Generous fairways wind you through maritime forest, giant oaks, pines and dogwoods with coastal ponds and lakes creating scenic natural hazards all to keep you playing on the short stuff or pay the price. Greens are also relatively large, contoured to keep you honest but it's the deep greenside bunkers you want to avoid, along with water on 15 of the 18 holes. Kilmarlic hosted the 2004 and 2009 North Carolina Opens and an annual fall college tournament.
After a morning across the main highway at the challenging Kilmarlic, we were more than happy to tee it up on the course that is noted for being the area's "most player-friendly course." To that I might add one of the best-conditioned courses we set foot on. The Pointe Golf Club is a Russell Breeden design – as is its companion The Carolina Club about 10 miles north on the mainland — that only stretches back to 6,300 yards from the tips with a slope of 126 and rating of 70.1. Perfect for any level of golfer! So if you have been away from the sticks for a while or looking for a facility with a top-notch practice facility this might just be the best place for that next round!
Nags Head Golf Links is one of those courses that I will never forget. An eagle 2 on the first hole (although it was my tenth) is just one of those things you just don't forget. After all how many of those do we make! Seaside target golf with a little Scottish style might be the best way to describe this true links course. You will notice first off that the course is extremely short by today's standards with the tips at 6,100 yards. Don't be fooled this par 71 course has a slope rating of 138 and Golf Digest has appropriately called it the longest 6,100 yard course in the states. If the coastal winds are not enough almost every hole has something to keep you thinking be it the rugged shoreline, ponds, wetlands, gorse bushes or sea grasses. This course could be one of the most beautiful on the Eastern Seaboard as it looks across three converging coastal sounds.
Many of the locals say "the Nags Head Golf Links is where the Scottish setting is so authentic; you can almost hear the bagpipes." Come and listen for yourself!
Note to tummy………….The Outer Banks is a seafood lover's delight with over 160 restaurants serving not only seafood but anything from Italian and French to Southern Style BBQ! No need to bring your fancy duds to the Outer Banks as it is pretty laid back but if couture is your style, no problem you will find that too!
There is still more for the animal or nature lover in the Outer Banks. Nags Head offers a Dolphin watch where you cruise on a 40-foot pontoon boat with a dolphin research team. On Roanoke Island the 68,000 square foot NC Aquarium awaits you while the slow-paced town of Duck is a designated bird sanctuary. A word of advice………DO NOT drive above the speed limit through Duck!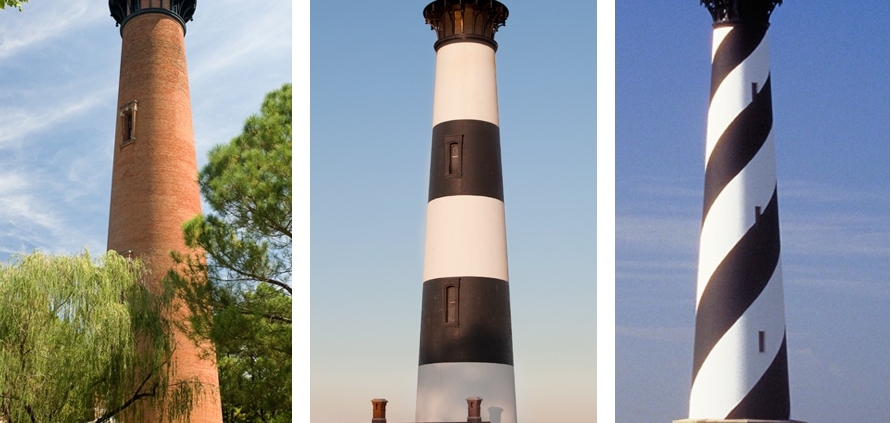 For those who like hunting lighthouses as much as they do birdies, the region is well known for a beautiful string of lighthouses that stretch from Corolla in the north all the way to Cape Hatteras in the south. Who could forget Orville and Wilbur Wright as they conducted their first test flights on the windswept dunes in Kitty Hawk? The rest is history and it is yours to see as the U.S. Government built the Wright Brothers Memorial site in 1932 and today National Park Service interpreters lead you through the historic events leading up to air travel.
So as you can see it is not going to take wild horses to get me to back to the Outer Banks, I can't wait to get back there!
https://playobxgolf.com/wp-content/uploads/2015/10/Lighthouse-Header.jpg
900
1920
OBXT_Admin01
https://playobxgolf.com/wp-content/uploads/2022/07/Play-OBX-Golf-Logo-Horizontal-300.png
OBXT_Admin01
2019-09-18 09:01:15
2019-11-11 14:40:48
Hunting Lighthouses and Birdies on North Carolina's Outer Banks